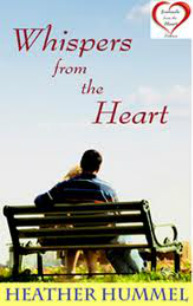 Whispers from the Heart
Whispers: The heart's way of speaking...
Madison Ragnar is a high school English teacher determined to connect with her students, to finish the next running race with a respectable time, and to avoid ever falling in love again.
But life has other plans for Madison. A man named Michael shows himself in the most unexpected places, raising questions from her best friend, Olivia, and issues around Madison's last relationship.
In the classroom, the death of a student prompts her grieving ninth graders to depend on her for answers. They turn to journal writing as a form of understanding the weight of what's happened in the walls of their teenage existence.
When Madison meets Phil, who throws a wrench in her declaration to not fall in love, it seems that her escape through miles of running is the only real footing she has in life.
Will fate determine Madison's life? Or will she have a say in its outcome?

---
"'Go read this book' doesn't do it the justice it deserves. Heather Hummel has written such a heartfelt and touching book. Madison Ragnar is such an intriguing character. One of those that makes you want to hug her and tell her it is going to be okay." - Michelle Bell Just Jump Book Reviews
***
"Author Heather Hummel is a true talent with words! Whispers from the Heart is a lovely journey of fate, faith, and transformation. Madison, is an inspiring and truly relatable character that any woman can learn from. It's a wonderful read for a rainy day or relaxing on the beach!" - Cari Kamm, Author Fake Perfect Me
***
"I recommend this book to anyone wanting to read a beautifully-written chick lit novel that will keep you turning pages eagerly." - Lost In Literature Book Reviews
***
"I really enjoyed this book. It was fun, fast, and heart-warming."
- Samantha Robey, Chick Lit Plus Book Reviews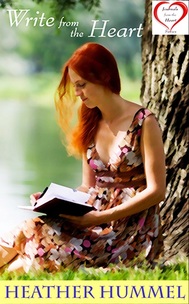 Write from the Heart
Journals are a woman's best friend...
When Samantha Sounder quits her office manager job the day after yet another boyfriend breaks up with her, the emotional havoc of these two events launches the beginning of her new life.
Samantha dives into therapy with Ragnar Axel, a traditional therapist who explores her failed relationships and sends her on a wild goose chase through her old journals to rediscover herself.
Despite the unsettling reactions of her best friend, Amanda, and Ragnar, Samantha decides to walk away from the corporate world and follow her dream as a novelist. She sets out to craft her first novel, Winter's Truth. Hesitantly, she accepts the unexpected guidance from Craig, an unlikely man she meets at the coffee shop.
Along her journey, Samantha picks up a new journal and titles it her "Positive Journal," declaring to only write positive thoughts in it. Samantha's life transforms from one of despair and loss to hope and faith as she navigates through new territory and explores the possibility of finding love over lattes.

---
"Author Heather Hummel is a true talent with words! Write from the Heart is a wonderful story on the power of positive thinking and a reminder how we have the power to control our own destiny. Samantha is the perfect balance of smart, fun, and honest." - Cari Kamm, Author Fake Perfect Me
*****
"Write From the Heart is a well-written and relatable story. Author Heather Hummel
gracefully takes her readers on a powerful and captivating journey. Samantha is
one of those characters that becomes a friend."
- Erica Negi, Author My Life in Loubies